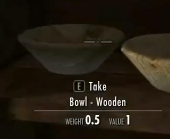 Carl will often shout "Bowl - Wooden! " if he comes across a wooden bowl in his Skyrim series. He does this because of a mod that changes the names of some of the most common items in the game. It's been a running gag since his let's play with Alice, and still continues to say it in his season 2 of K'Joor and even in other games.
Ad blocker interference detected!
Wikia is a free-to-use site that makes money from advertising. We have a modified experience for viewers using ad blockers

Wikia is not accessible if you've made further modifications. Remove the custom ad blocker rule(s) and the page will load as expected.